Black Ruthenium Bath JE12-1 - 5 g/L Ru
Product information "Black Ruthenium Bath JE12-1 - 5 g/L Ru"
The black ruthenium bath JE12-1 deposits dark up to grey-black ruthenium coatings. The ruthenium electrolyte preserves the brightness and it can be obtained a high colour consistency. The layers have a good grip and impress through their decorative colour. Coatings up to max 0,2-0,5 µm can be deposited. When plating non-precious metals it is recommended to use a pre-gold layer or a pre-palladium layer.

Operating data:
Ruthenium content: 5.0 g/L Ru
pH-value: 1.0 – 1.6
Density: 1.036 g/cm3

Operating conditions:
Voltage: 2,2-3 Volt
Bath temperature: 65°C (60-70°C)
Exposition time: 2 min. (2-4 min.)
Anodes: Platinized titanium, mixes metal oxide
Agitation: required, low speed
Currency density: 0.5 – 3 A/dm2
Bath filtration: from 10 Liter
Deposit rate: 1 – 3 mg/Amin
Deposit speed: 0.02 µm/min at 1.5 A/dm2

Deposition data:
Hardness: approx. 800 HV
Layer thickness: max. 0.5 µm
Layer density: approx. 12 g/cm3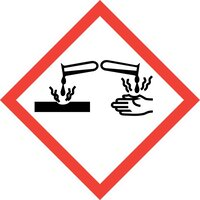 Hazard warnings
H314 Causes severe skin burns and eye damage.
Safety instructions
P280 Wear protective gloves/protective clothing/eye protection/face protection.
Pc61 jentner.statements.Pc61
P305 IF IN EYES:
P351 Rinse cautiously with water for several minutes.
P338 Remove contact lenses, if present and easy to do. Continue rinsing.
P313 Get medical advice/attention.
Available downloads