Platinum Bath JE18 - 2 g/L Pt
Product information "Platinum Bath JE18 - 2 g/L Pt"
The acid platinum electrolyte JE18 deposits shiny, bright and hard platinum layers. It is used for decorative as well as technical applications. The layers are highly resistant to corrosion and abrasion.

Operating data:
Platinum content: 2,0 g/L
pH-value: <1
Density: 1,08 g/ml, increasing

Operating conditions:
Voltage: 2 Volt
Bath temperature: 30 - 40 °C
Exposition time: 2 - 4 min.
Anodes: Platinized titanium, Mixed oxide
Anode/Cathode surface: 1 : 1
Goods movement: required
Recommended velocity: 2 - 8 cm/sec.
Deposition rate: ca. 11 mg/Amin; ca. 0,5-1,5 A/dm2
Bath movement: recommended
Bath filtration: from 10 litres

Deposition data:
Hardness: 500 HV
Layer thickness: max. 1,0 µm
Pt content: 99,9%

Form of delivery:
Ready for use 2 g/L Pt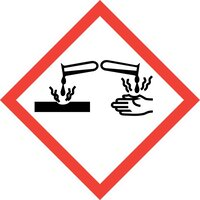 Hazard warnings
H314 Causes severe skin burns and eye damage.
Safety instructions
P280 Wear protective gloves/protective clothing/eye protection/face protection.
Pc30 jentner.statements.Pc30
P302 IF ON SKIN:
P352 Wash with plenty of water
P332 If skin irritation occurs:
P313 Get medical advice/attention.
P362 Take off contaminated clothing.
Available downloads